City Hall supports D-Day to expand flu and measles vaccines in Manaus
The City of Manaus sponsors, this Saturday, 14/5, nine hours of live shots during the "D-Day of Prevention of Influenza and Measles", with 508 points working since 8 am to 5 pm, in all areas of the city. The goal of the City Health Department (Semsa) is to prevent 455,143 cases of influenza and 216,407 cases of measles.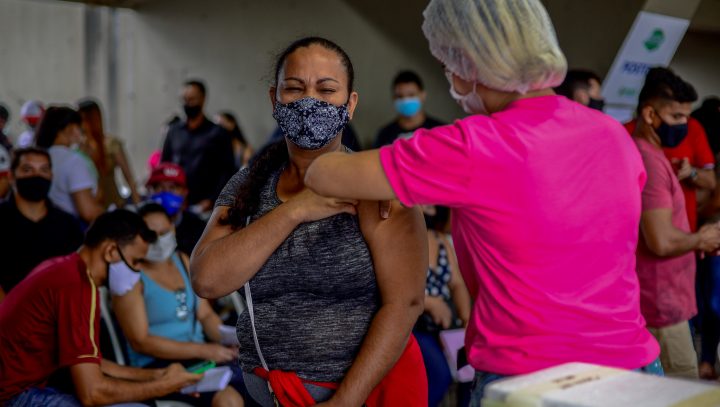 According to the city secretary of Health, Djalma Coelho, seven major groups can be vaccinated against influenza, including trivalent vaccines, applicable to three strains of the virus (H1N1). , H3N2 and B / Victoria strain). The target audience is children from six months to less than 5 years old; health workers; adults 60 years of age or older; pregnant women; puerperal females; teacher; and indigenous peoples.
Children 6 months of age and under 5 years of age and health workers have been vaccinated against measles, including MMR, which also protects against leukemia and rubella.
"Semsa started developing the vaccine available in Manaus on April 4, for the health workers and the elderly in the first phase. "But demand is still low. We need to expand vaccines in the city, and we are joining all efforts to improve access to the population," he said. said.
Djalma explained that the goal by the Ministry of Health is to reach 90% of the target audience with influenza vaccines. Semsa estimates are to help 185,241 seniors; 159,789 children; 56,618 health workers; 27,974 pregnant women; 4,599 postpartum women; 20,339 trainers; and 583 ethnic groups.
"Neighbors have been involved in the race since this Saturday, but the vaccine was brought to them by Dseis (Special Health Areas). The disease is also different for people in rural areas, where health groups have already been vaccinated as more supplies are delivered to these areas ", pointed out the head of Semsa.
According to measles, the goal is to vaccinate 159,789 children and 56,618 health workers. Manaus is in a precarious position due to the disease, since 90% of new cases confirmed in Brazil are in the north, says Djalma.
"We are working to protect 95% of the population with MMR, as stated by the Ministry of Health. Our biggest concern is children under 2 years of age, who like to develop "The disease is getting worse, even though the virus is spreading to humans on a daily basis. Only vaccines can protect everyone against the disease," he said.
Attendance
During D-Day, Saturday, 14/5, Semsa will have 508 active vaccines, from 8 a.m. to 5 p.m., at health facilities and elsewhere, e.g. such as shopping malls, bakeries, churches, supermarkets, drugstores, markets, bars, organizations, fairs and cafeterias. The vaccine will also work in cell phones, to help the elderly in bed and those in low-income areas.
Lists with all addresses can be found on the Semsa website (semsa.manaus.am.gov.br) or directly at the bit.ly/LocaisDiaD link, in addition to the social media editor (@ semsamanaus on Instagram, and Semsa Manaus on Facebook).
"D-Day is committed to reducing health care, is a principle of SUS, and it will be a great time for everyone to protect themselves against the flu and Children who have been vaccinated with the Basic Immunization Calendar can still make changes to the information. the responsibility comes to us to get it ", Djalma said.
Users must show a photo ID and immunization card to receive the vaccine. Health workers and educators must bring a certificate of their work relationship, and women pregnant and postpartum, a prenatal card.
The Purpose
In addition, according to Djalma, as Manaus receives a new vaccine from the Department of Health, the flu vaccine will be extended to people with permanent disabilities. li; Security and rescue services; Military; drivers; commuters in urban and remote areas of public transport work (driver and operator in internship); port workers; prison staff; adolescents and young adults 12 to 21 years of age in educational measurements; the population lacks freedom; and people without infectious diseases and other specialized treatment).
Literature – Victor Cruz / Semsa
Photo – Camila Batista / Semsa